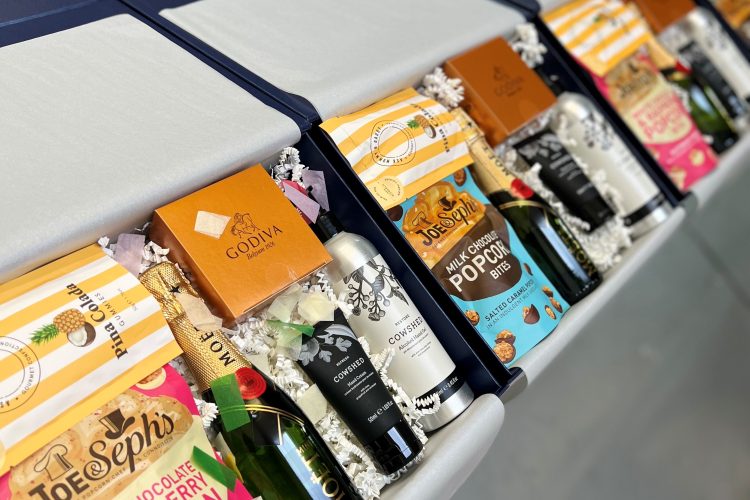 These days, corporate culture is more thoughtful and attentive. Consequently, gifting employees is no longer just about the farewell gift. There are different occasions where corporate gifting is much appreciated. Here are our top tips on when to surprise an employee with a beautiful present.
1. Employee Appreciation Gift Box
Employee Appreciation Day happens once a year in March. But why wait to acknowledge someone's outstanding work? Instead, make it a more personal experience when the time is right. Our experienced team can help you select a gift box when you want to reward staff.
What's more, the gift recipient is not the only one who benefits. Rewarding a top performing employee is a sign of good leadership. It creates a positive work environment. This, in turn, motivates your workforce and drives productivity.
Who doesn't love a thank you gift? Employees who put in the extra effort at work deserve a thank you. For example, you could arrange gifts for employees on these occasions:
Winning an important contract
Outstanding effort on a special project
Increased productivity
Exceptional sales performance
Thank you gifts are not just about good manners. Corporate gifting is also great for business. To illustrate, research shows that employees who feel valued in the workplace are happier and more productive.
3. Welcome Gifts for New Employees
An onboarding gift is a great way to welcome someone into the company. Our pre-built gifts are perfect for this occasion. Thoughtful gift choices include desk essentials and luxury stationery. Alternatively, you can select gifts from a wide range of luxury items on our site. Then leave it to our experienced team to pack and send the gifts in a beautiful presentation box.
4. Build My Gift for a Work Anniversary
Retaining top talent is key to the growth of your business. Top-performing employees lead by example and encourage other team members to raise their game. Therefore, if a valued member of your team has a work anniversary, celebrate the date. Give them a personalised gift to mark this special day. Our popular gift ideas include fragrances, wines and spirits, technology and accessories. Overall, there is something for everyone.
5. Celebrate Promotions
Promotions at work should never go unnoticed. A congratulatory gift is a meaningful way to say "well done" to someone. It also keeps your top performers motivated. It is a great way to attract new talent, too. Creating a positive work culture helps to build a brand's reputation.
6. Gifts for the Holiday Season and Birthdays
The holiday season is the perfect opportunity for a boss to hand out gifts to employees. For no other reason than it is the season to be cheerful and generous. Our bestselling corporate gift items at this time of year include luxury edible treats, drinks and pampering products.
Birthdays are also another great time to spoil employees. Surprise them on their big day with a few of their favourite things. Our range of designer goods and treats make a birthday at work feel a little more special.
7. Employee Awards Ceremonies
Hosting annual employee awards ceremonies bring everyone together. You can celebrate successful individuals or a team in different ways. Trophies are a traditional way to reward and incentivise your staff. Alternatively, you can be more creative with beautifully branded gifts. Contact us to discuss customising individual products. Your company name and logo can feature on a range of designer gifts.
Corporate Gifting Made Easy with Build My Gift
To sum up, businesses can gift employees on many different occasions. Special moments include work anniversaries, promotions and celebrating achievements. Corporate gifting doesn't have to be stressful either. We're here to make the whole experience easier for you. Build your own employee gift boxes or select pre-curated gift boxes. You can also incorporate branded elements into your gift box selections to ensure a professional finish.