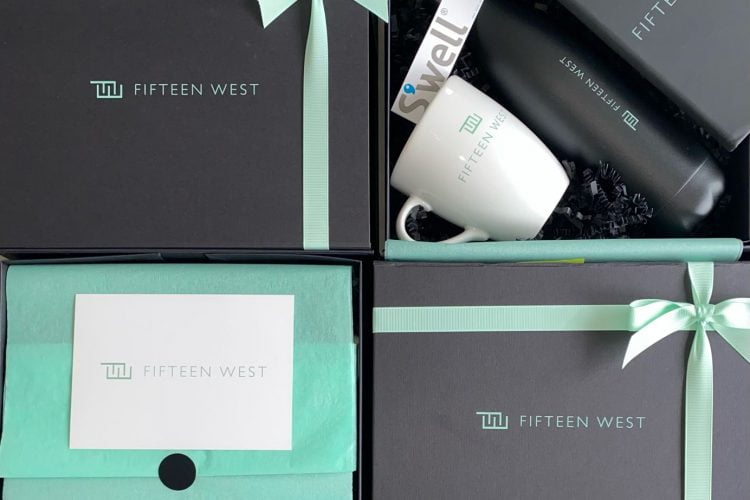 For the last 3 years, Build My Gift has proudly stood behind the idea of being there for someone even when you can't physically be there. For the past year more than ever, our team has helped clients do just that for their employees, clients, or partners, near or far with corporate gifting.
Corporate Gift Ideas for Employees
Whether it's a bespoke gift box for employees filled with desktop essentials to make their WFH experience seamless, or if it's a simple morale-booster to kick-off their week, we can create the perfect ways to show you're there for your employees during a moment like this.
Corporate Gift Ideas for Clients
With beautiful presentation, luxury products and a clear call to action, a well-executed corporate gift can go beyond just sending a nice sentiment: you will see an ROI for your business. External corporate gifting for clients including client onboarding, customer prospecting, product launches and press mailers are great occasions to get gifting!
Unique Corporate Gift Ideas
Showcase your brand in a tasteful way with our branded options! Too often, corporate gifting becomes merely an obligation or an afterthought, we encourage brands to look at it as a creative exercise instead. When working with our clients, we begin with a consultation where we take the time to understand the message, mood and meaning behind the gift.
Luxury Corporate Gift Ideas
Be it a holiday gift, a token of thanks, conference welcomes or an employee engagement initiative, make it count. It's not enough to put your logo on an item, it needs to stand for something, have genuine value, and feel special. At Build My Gift, we focus on luxury because it can represent a brand's engagement and trust which in turn will lead to loyalty.
Whether it's a quality investment piece you know they'll enjoy for years to come or an upgraded take on an everyday item that makes it feel like a special treat, we've rounded up some of the best luxury brands to help you achieve that lasting impression.
Everyone is unique and so are their tastes which is why a personalised gift box demonstrate your creativity and thoughtfulness. With this in mind, we can customise a range of gift options. We understand the power of personalisation and can help to create gifts that are all personalised to the recipients. We work with the finest brands to create custom gifts, from notebooks and luggage tags to Champagne and biscuits.
Corporate Gift Ideas for Men
From travel and office accessories to confectionery and barware, we offer a range of premium corporate gifts to suit any budget. Simply select all the items you would like; we'll pick and pack for it to be on it's way!
Corporate Gift Ideas for Women
Build a bespoke gift from our unique range of 500+ products from the best brands. Be it a sweet treat, pretty plant or a cosy candle we can help cover all bases and interests.
If you'd like to find out how to take gifting to the next level for your business, reach out to our team at corporate@buildmygift.com to get started!