Bridesmaid Gift Box
You're engaged but you're busy as a bee planning your wedding! That means it's also time to pop the question and ask your special girls 'Will You Be My Bridesmaid / Maid of Honour?' in the most fun, creative and meaningful way possible! Anyone who's been a bride will tell you, you can't do it without your best girls by your side.
Although it's an honour and privilege to be chosen as a bridesmaid, the role can require a lot of time, effort and money, so in the lead up to the big day, you'll want to thank your bridal party for all their support throughout your special journey. They've been there to plan your bridal shower, help you find the perfect dress, attend the wedding rehearsals, stand by your side during the wedding ceremony and of course handle all your bridezilla moments too!
If your Looking for wedding hair in Cheshire, then try I Do Hair by Camilla Marie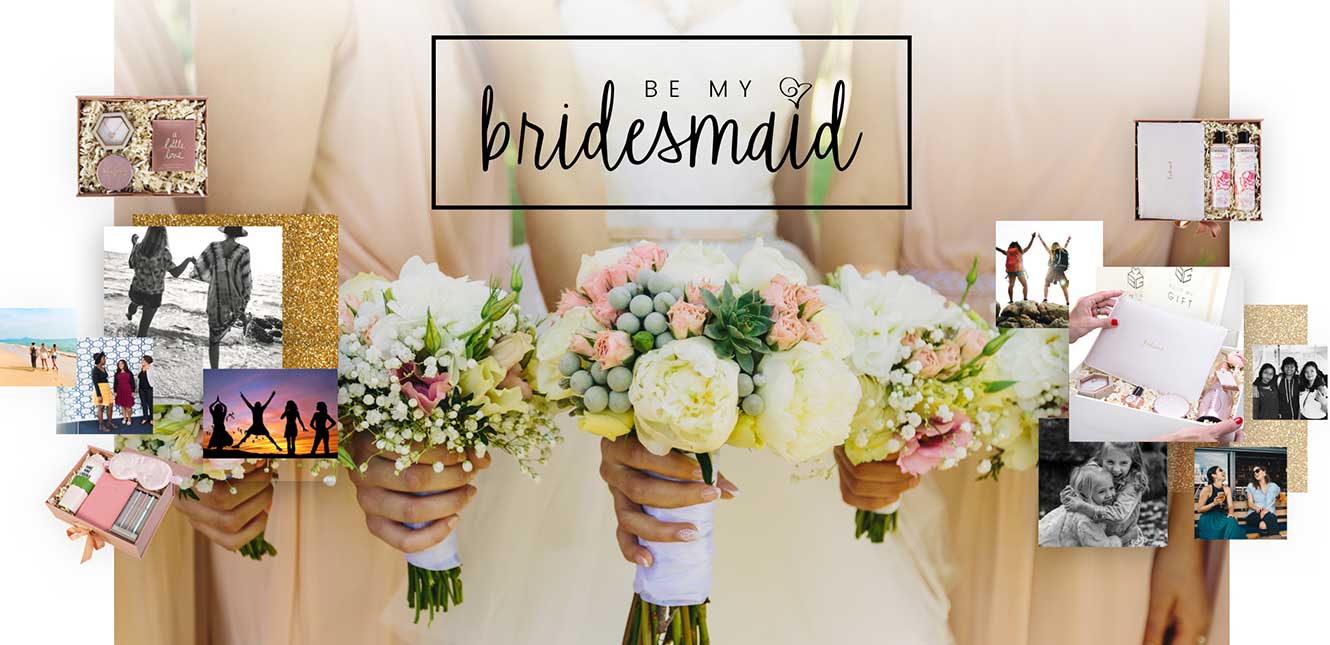 If you're looking to show a little love and want to surprise your best girls with something unique and personalised, we can help build a bespoke gift that fits the bill. Instead of selecting one gift, give your bridesmaids a whole box of goodies. Simply choose the items you'd like, and we will package them beautifully for you in our signature rose gold bridesmaid gift boxes and deliver them directly to you or your girls.
Alternatively select one of our pre-curated bridesmaid gift options if you're short on time! Think a pamper kit of Cowshed products; mini bottles of Moët teamed with luxuriously decadent chocolates and nail polish; or gin, pretty pieces of jewellery and a lip gloss. These are most-wanted products from luxury brands that are guaranteed to bring a smile to anyone's face.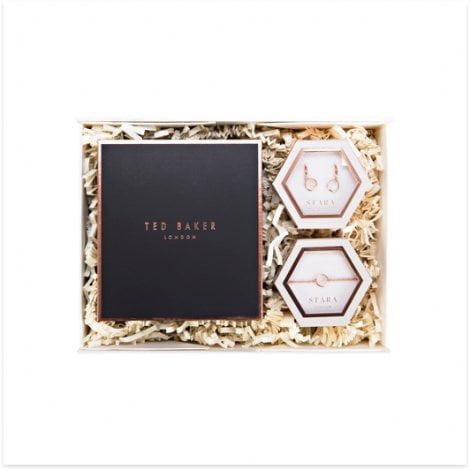 Wedding Concierge Service
We know finding a gift that's special, personal and wedding-budget-friendly can be easier said than done so our dedicated wedding concierge service can help work with you to create the perfect proposal and thank-you presents for your bridal party to show them how much their support means to you. If you don't have the luxury of time to create something completely bespoke, we can work with you to design one-of-a-kind gifts, simply get in touch with us today!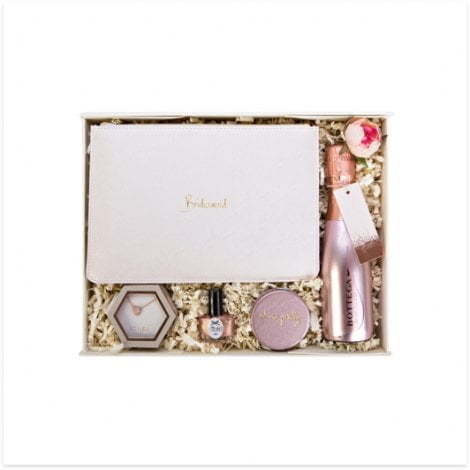 Will You Be My Bridesmaid Gift Box?
Creating an Instagram worthy bridesmaid gift box can be tricky. We have so many memorable gifts, some to create a dash of surprise and others that are meant to be treasured by your bridesmaids as keepsakes of your special day! Our bridesmaid keepsake boxes are perfect to fill up with pampering treats and momentos of your friendship. From beautiful pieces of jewellery, they can wear down the aisle on your big day to bottles of prosecco and a few sweet treats we're certain your bridesmaids will love the thought behind each gift.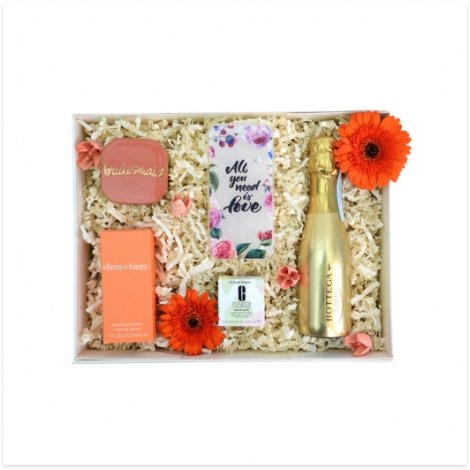 Will You Be My Maid of Honour?
She's your number one throughout the planning and of course on your big day so it's safe to say you probably couldn't get it all complete without her. From pampering products to sentimental keepsakes, we're sure she'll be grateful for the thought behind the gifts you select.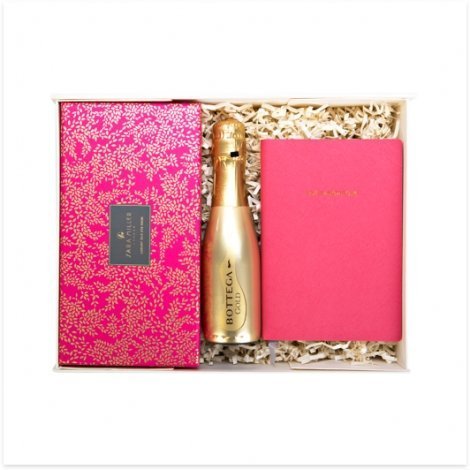 Bridesmaid Thank You Gift Box
Thankful to have had your girls by your side on your big day and all those stressful moments leading up to it? Send them a post-wedding thank you gift box complete with a personalised heartfelt message showing your appreciation.
Our Bridesmaid Box Favourites
1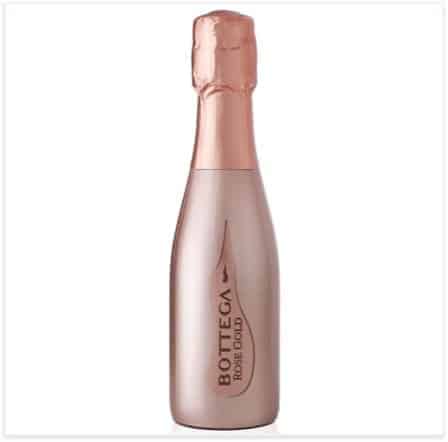 Bottega Rose Gold
If your bridesmaids are the prosecco-loving type, this cute Bottega Rose Gold bottle will go down a treat.
2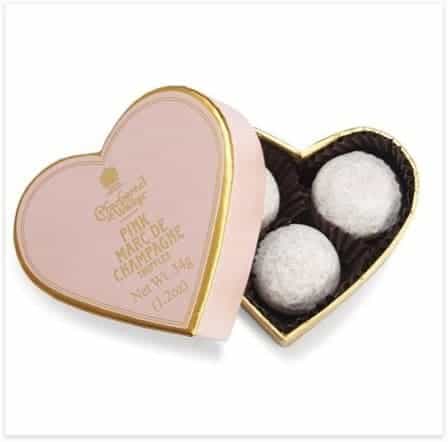 Charbonnel et Walker Chocolates
Who doesn't love a sweet treat or two? These luxuriously decadent chocolates are delightfully delicious!
3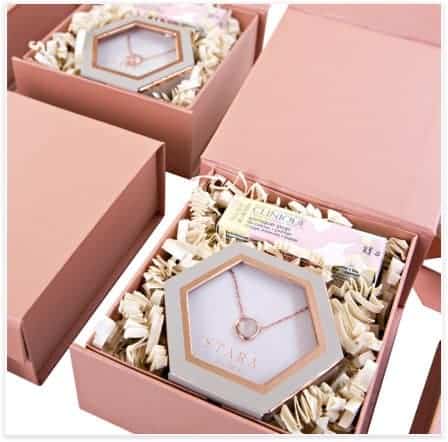 Stara London Accessories
A classic go-to gift is jewellery; these simple but elegant designs make them perfect accessories to complement your bridesmaids' dresses whatever their style may be.
4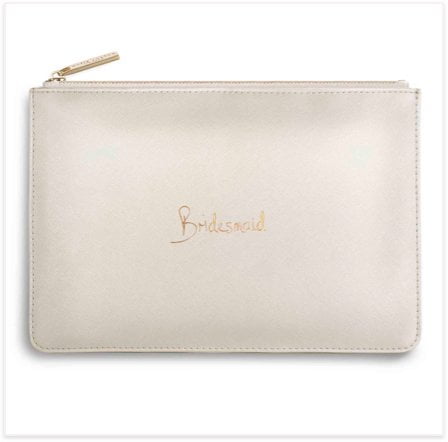 Katie Loxton Bridesmaid Pouch
One of our favourite gift ideas, these bridesmaid pouches can be used as a clutch to accessorise the bridesmaids outfits or as a make-up bag.
5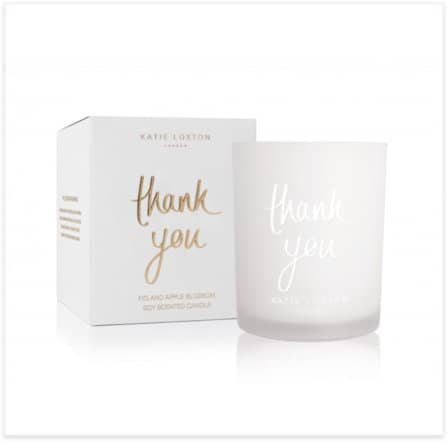 Katie Loxton Sentiment Thank You Candle
This beautiful candle is a lovely way to show your bridesmaids some appreciation and every time they light it they'll be reminded of your wedding celebration and how fun it was to be a part of it all!
6
Kate Spade Gold Dots Photo Frame
To add a personal, heartfelt gift that your bridesmaid will treasure forever consider a framed photo.
7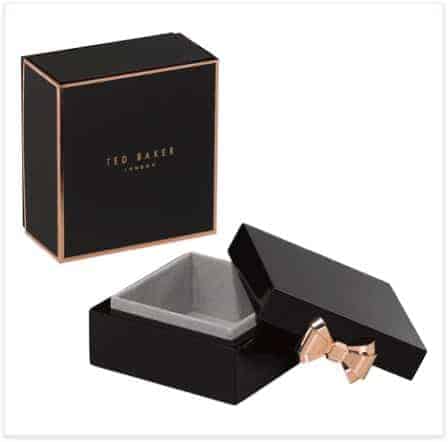 Ted Baker Jewellery Box
Another popular choice of gift, this Ted Baker jewellery box can be used for storing accessories, hair care or make-up.
Our favourite pre picked bridesmaid boxes
Browse our selection of luxury Bridesmaid gifts...