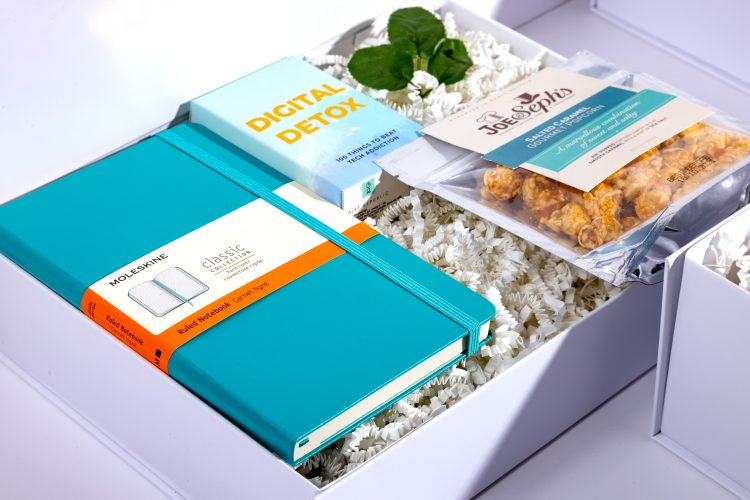 Building trust and loyalty are key to successful relationships in business. One way to do this is to bring a personal touch to the boardroom with unique and thoughtful gifts for clients. An appropriate gift strengthens connections between you and your client.
However, sometimes the challenge is knowing when to gift your clients and finding the time to organise it. The good news is we're here to help. We'll take care of your corporate gifting requests. Also, here are some tips on when to send client gifts and what to give them.
Luxurious prospecting gifts
A gift is an excellent way to catch the attention of a prospective client. It also shows you have great taste! Choose from our luxurious selection of pre-curated client gift boxes. Furthermore, we can add professional branded packaging to help you make a more personal connection with a prospect.
Alternatively, you can select your gift box and unique items from our beautiful range of designer goods and products. Consequently, a thoughtful gift may encourage someone to do business with you.
Gifts for client onboarding
Welcome new clients to your company with a special gift. They will appreciate the effort you have made. Our corporate gifts for men and women include stylish items, such as:
Branded water bottles
Books and luxury stationery
Stylish mugs
Artisan treats
Moreover, client onboarding gifts make a positive start to what will hopefully be a lucrative long-term partnership.
Luxury gifts to thank clients
Thank you gifts for clients show how much you appreciate their ongoing support. It is good to acknowledge your valued customers and make them feel special. For example, you can make the gesture even more meaningful by celebrating the date you first started doing business together.
One of our popular pre-built "thank you" gifts include vintage Champagne, a luxury moleskin notebook and a designer pen. However, you can choose your own items. For example:
Champagne, spirits and non-alcoholic drinks
Fragrance
Home accessories
Plants
Beauty products
Furthermore, our thank you gift boxes come in different shapes and sizes. We can help you choose a unique gift to suit your budget and impress your client. Don't forget to make your employees feel appreciated, too. See our top Tips on When to Gift Employees.
Reconnect with a gift
Ongoing communication with clients strengthens your working relationship. It helps you stay on top of your clients' needs. Moreover, it allows you additional opportunities to demonstrate how you can help your clients to achieve their goals. If you haven't been in touch with a client for a while, why not reconnect with a gift?
Gifts with meaning go down a treat. For example, the "coffee break" is a workplace tradition. It brings people together. Therefore, you can capture this symbolism of "togetherness" with a coffee-themed gift for clients. For instance, our pre-curated Coffee Connoisseur Box filled with gourmet coffee and luxury truffles always makes a great impression. We have gifts for tea lovers, too.
Celebrate success
Another great time to gift a client is when you want to celebrate post-sales success or mark another milestone in your business-client relationship. For instance, we have beautiful Champagne gift boxes that set the tone for a celebratory occasion. Or you can select our bestselling Wellbeing Gift Box. The box is packed with luxury pampering treats and is a great way to show you care.
Celebrate re-branding or a new product launch
If your clients are starting a new project, re-branding, or launching a new product, you could give them branded gift items to help them keep their focus and stay inspired. For example, popular and practical items such as notebooks, stationery, pens and planners are great for this occasion.
Wrapping up the year with gifts for clients
December is a popular month for gifting clients. And we have gifts tailored to the season. You may wish to give clients a more luxurious gift at the end of the year. Choose from Champagne, technology and designer fragrances. Our selection of high-end gifts will leave a lasting impression. And set a positive mood for the year ahead.
Surprise your clients with thoughtful gifts throughout the year
To sum up, there are plenty of opportunities to surprise your clients with a gift. We are here to help you show your gratitude. With our creative input, corporate gifting isn't stressful or time-consuming. We'll take care of everything. Get in touch today.