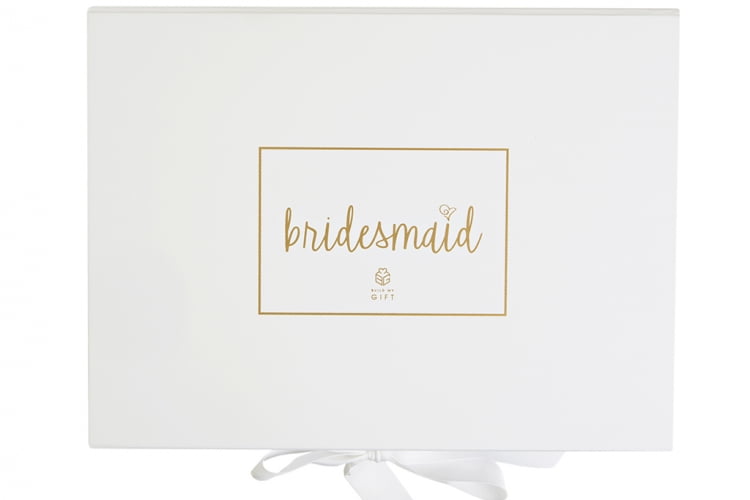 Whilst gifting your Bridesmaids isn't a requirement, it never goes unappreciated no matter how big or small the gesture.  They must be special if you chose them to accompany you down the aisle so a gift is the ideal way to say a little thank you for being there for you throughout it all.
Chances are your girls will lend a hand throughout the planning process and of course on the big day itself so a bespoke gift will go a long way. The best Bridesmaid gifts are those that show you've put a lot of thought into them and that's exactly where Build My Gift can help! We curate the items, you build the gift, because the greatest gift is personal.
What to gift your Bridesmaids…
What you decide to gift your Bridesmaids depends on your individual relationships with each of them. Whilst it looks perfectly pretty if you get everyone the same gift, what works for one person might not work for another so don't be afraid to build different gifts, whilst keeping within the same price range. It shows more thought has gone into selecting the gift and it will be appreciated for being that much more personal! Our range of wedding themed gift boxes can be filled with as many treats as you'd like and completed with a handwritten card. If you have any special requests we would be more than happy to accommodate, simply email our Wedding Gift Concierge team with more details!
How much to spend on your Bridesmaids?
With a wedding budget that will seem to grow daily, it can become tricky to find a beautiful gift for your Bridesmaids without spending a fortune. Decide on how many of your girls you will choose and set aside a budget for all your gifts. Using our filter by price will help you build a luxury gift without overspending! If you are looking to purchase 10 or more gifts, contact us via email at enq@buildmygift.com and we'd be more than happy to offer a special discount.
When to gift your Bridesmaids…
When you decide to share your Bridesmaid gifts is entirely up to you. If it's something that could be useful for them in the lead up to the wedding and you're keen to pop the all important question in a special way, the bridal shower is always a good time to get everyone together and present their gifts at the same time. You can use the gifts as an opportunity to give your Bridesmaids a sneak peek of the big day and include an item that reflects the theme. If you're gifting something that they will use on the wedding day itself, take time out at the rehearsal dinner or wedding morning are always a sentimental time to give a heartfelt thank you. It'll be a moment they will look back on and truly cherish. Alternatively, a post-wedding meal or night out can be a great time to spend time with your girls, reminisce on the special moments shared during the wedding and present them with a thank you gift.
Feeling inspired? Get ahead with our chic and easy range of Bridesmaid Gift Boxes, you'll find something that all your girls will love.